It is the job of a sci-fi writer to look to the future and predict what kind of world our descendants might live in. Consequently, many of today's Internet technologies were actually first conceived in stories, and not in computer labs. From the works of legendary writers like Verne, Clarke, Dick and Brunner came these stunning predictions of common Internet technologies we couldn't live without today.
The Internet
Predicted in: "Paris in the Twentieth Century" by Jules Verne
Way back in the 1860s, Jules Verne wrote "Paris in the Twentieth Century." In addition to predicting the rise of gas-powered cars, the metro, electric lighting, and other common 20th Century technology, he also describes a communication network that is much like our modern Internet. He also includes descriptions of electro-mechanical calculators … or as we might call them, "computers."
Email
Predicted in: "The Zap Gun" by Philip K. Dick
While MIT's CTSS MAIL from the late 1960s is sometimes cited as one of the earliest "email" systems, many people cite the sending of the first ARPANET email in 1971 as the true birth of email. Of course, email didn't become truly widespread for several more decades.
Dick's story was written in 1964 and published in 1965, predating both real-world email services. In Dick's story, "The Zap Gun," what we would call email is called 'stant mail, an abbreviation for "instant mail." In the case of "The Zap Gun," the 'stant mail messages are delivered by robots.
Computer worms
Predicted in: "The Shockwave Rider" by John Brunner
Published in 1975, "The Shockwave Rider" is a notable work because it coined the phrase "worm," in reference to a computer program that can replicate its way through a computer network. To be fair, the "Creeper virus" was actually created three years before this story was published, but it wasn't until Brunner's work that people had a name for this type of virus. Brunner's work did predict just how dangerous worms could be, arguably far ahead of public knowledge and understanding of that fact.
Online newspapers
Predicted in: "2001: A Space Odyssey"
Print may be a dying medium now, but that wasn't the case when Clarke was writing "2001" in the 1960s. In "2001," Clarke conceived of an online newspaper that would load "in a few milliseconds." Even Clarke couldn't quite imagine the speed with which information would be shared in these newspapers, however, originally writing that these newspapers would be updated hourly.
He did get one thing right about online news agencies, though: "One could spend an entire lifetime doing nothing but absorbing the ever-changing flow of information."
Let's just hope Clarke's other prediction of the mentally unstable AI system HAL doesn't come to pass…
Follow Tucker Cummings on Twitter: @tuckercummings
Mac users love Apple computers because of their reliability, beautiful design, and wonderful usability. Whether you prefer the sleek tablet style of the iPad or the impressive power of a MacBook Pro, Apple does it all, and does it well. But that doesn't mean there aren't peripherals out there that can enhance an Apple user's computing experience. If you want to invest in some quality peripherals, here are some of your best bets at a price that won't break the bank.
Apple's Magic Trackpad
If you use a desktop Mac, then you need this. The intuitive range of gestures you can do with this multi-touch trackpad is really something, and it's beautifully designed from an ergonomic perspective as well (it has the exact same profile as Apple's wireless keyboard.) The only downside is that it runs on batteries, so you may want to invest in a rechargeable battery setup to keep your costs down. The Magic Trackpad retails for $69, but you can find them on eBay sometimes for as little $45.
Griffin's PowerDock 5
If you want a neat and tidy way to charge your Apple devices, this dock provides an attractive way to charge your iPad, iPhone, or iPad for up to five devices. It retails for $99.99, but you can probably find it for less online with a big of research.
Adesso's Bluetooth SlimTouch Mini Touchpad Keyboard
This one's a bit of a stretch, since the list price is $129.95, but I saw it available online for about $80 when researching this article. I love Apple's Wireless Keyboard, but this Adesso keyboard is also pretty excellent. It's compact, has an effective range of 30 feet, a handy touchpad interface, and very quiet keys.
Follow Tucker Cummings on Twitter: @tuckercummings
A recent report from the Pew Internet and American Life Project shows that 70 percent of Americans 18 and older now have Internet access via high-speed broadband connections. That's a 4 percent increase since 2012. Since 2000, the percentage of homes with high-speed broadband connections has risen by 67 percent.
Pew's research also finds that 56 percent of American adults own cell phones that give them access to the Internet.
That means Americans have better access to the Internet than ever before.
But don't get too excited. Susan Crawford, writing for Wired.com, shows that a closer look reveals a rift in Internet access.
Crawford points out that the poll uses the term "high-speed broadband" too loosely by including satellite service. In reality, DSL delivers a much faster, reliable connection than satellite connections. Crawford suggests that grouping satellite and DSL in the same category is like thinking of a high school football team as a competitor to the New York Giants.
Touting Internet access via cell phone also creates some problems. Cell phone connections have gotten faster in recent years, but they cannot compare to a home DSL connection. It's obvious that consumers know this: the Pew research shows that 46 percent of Americans have broadband service at home in addition to cell phone Internet access. Only 10 percent have cell phones without home service.
While it's exciting to see so many more people accessing the Internet by any means, Crawford believes that it reveals a digital divide that falls along socio-economic and racial lines. She writes that the people relying on cell phone access without home broadband service usually have low incomes. Many of them are also members of minority groups. Of course, those two categories often overlap.
So while we can all feel good about increased Internet access throughoutAmerica, it is important to consider how economics and race influence who has easy access to information. The Internet, after all, has become a driving force in business and money-making opportunities as well as socializing and playing games. Without the Internet, low-income persons could have difficulty exploring or applying for new job opportunities that will lift them out of poverty.
Are you ready for hurricane season? Forecasters are warning about the possibility of a very active season. Typically the peak of the season runs from mid-August through October and those who are still recovering and re-building following last year's Superstorm Sandy know all too well how important it is to be prepared.
You'll want to stay on top of the weather in your area as well as find ways to communicate when the power goes out, taking the Wi-Fi with it. Luckily, technology can help with that.
Storm-ready gadgets
Severe weather alarms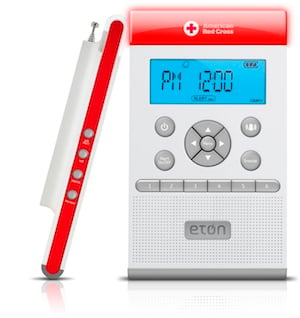 ZoneGuard is a wireless weather alert radio system that notifies you with flashing lights and blaring sounds when there's severe weather alert in your area. It uses specific area message encoding (S.A.M.E.) technology. You simply enter your S.A.M.E. county code  and when you need to know something the integrated AM/FM digital radio can keep you informed, even if your Internet, power or phone lines are down.
If you're worried about not hearing the alarm, consider the The ZoneGuard+. It comes with two wireless remote modules that you can place in other rooms around the house.
Both versions run off AC or can be powered with AA batteries if the power goes out.
Price: ZoneGuard is $35 on Amazon and $39 on shopetoncorp.com, ZoneGuard+ is $80 on Amazon andshopetoncorp.com
Read the Rest at Techlicious
Finding good food at a moments notice is now easier than ever thanks to the invention of applications for cell phones and computers. Whether you are at home or out and about these top free apps will help you find exactly what you are looking for instantly.
Urbanspoon is a fantastic food finder app. It tops our list because it has basically been around longer than any other free food finder app on the market today. You can browse specific types of restaurants based on type, price, and location, or you can let the app pick a restaurant at random for you from a huge database. If you have trouble making up your mind on where to eat, this app is great for deciding for you. It also provides reservation availability, reviews, favorites and top rated restaurant guides, and hours of operation.
Yelp tops our list as well having a lot of the same features as Urbanspoon, but it is not just geared towards finding food. It helps you find gas stations, parks, and fun things to do around you. Yelp recently added a review writing feature for customers as well, and it deletes reviews made by business owners, which making the reviews a lot more reliable and true. This app is great if you are new to a city and are looking for good places to eat and fun stuff to do.
FastFood is also a top rated free food finder app. It boasts having restaurant reviews, ratings, menus, up to date deals, and a map all on one page. Unlike the other top apps, this one shows actual specials and deals currently available at restaurants in its system. You can also look up gas station and grocery store locations very easily. Another great feature on this app is its recipe finder tool, which allows you to check out and try all sorts of great recipes.
AroundMe is on the forefront of food finding app technology. It not only helps you find good restaurants near to you, but it can also help you book and find hotel rooms, find gas stations, find ATMs, get movie schedules, and find local bars and nightclubs around you. It is also a worldwide app featuring many different languages from around the world, so no matter what language you speak and where you are in the world, you can find exactly what you are looking for.
GrubHub also made our list as a top contender because of its unique ability to allow the user to order food for free online from tons of local restaurants. You can do it from your cell phone or computer, and it takes less than five minutes to complete any order. This app is food specific, which makes it easy to navigate and find exactly what you are looking for very quickly.
For most, interior decorating is at best a personal hobby to be handled in the down time one has in between work, self-improvement, drinking the pain away, and sleep. The idea of having a room actually designed by someone seems like an absurd luxury for anyone paying rent or dealing with a mortgage. So the new online service Tastemaker offers something of a look at how the other half lives for those on a budget; with a price range between $600 and $2250 depending on the size of room the and the number of items, the design plans on the site are extremely reasonable. However, the overeager should be warned that the price does not include the actual items needed to design the room, but instead consists of detailed plans on how to organize the room and what to buy.
The service is still very much a luxury item designed for those with aesthetic standards that outstretch their own abilities. It's far more expensive than just buying furniture yourself, but much cheaper than the $5,000 or $10,000 some interior designers can run up in consulting fees. Control freaks need not apply: designer choices are limited to the few featured on the website at any given time, and once you accept a designer for your room you're more or less in their hands. But one would guess that's exactly where most of Tastemaker's clientele want to be, as the designers featured tend to showcase the kind of effortlessly warm and inviting decorating that seems ripped directly from the pages of a magazine.
The site has an incredibly straightforward workflow, giving the user several opportunities to discuss the room with the designer, an incredibly important step in figuring out how expensive the actual items they select for the room will be – a miscommunication here and you end up spending your entire decorating budget on a sofa. And a "design associate" (kudos to whoever came up with that one) can come measure the room for you to guarantee that the designer has a perfect idea of what type of space he or she is working with.
It's basically a more complex version of auction sites such as Gilt, JackThreads and MyHabit, design aggregators that assume you just want something nice and are less concerned about exactly which designer you're buying. And really, that's about as perfect a distillation of my feelings on material goods as I could ever think up. There's a nice sense of democratization to ideas like this: you have the right to want to live outside your means, and they provide occasional brief chances to do so. Be it saving $130 on a pair of sneakers or $5000 on a well-designed living room, the access granted by these websites is always tantalizing.
As social networking has slowly begun to eat up the lion's share of our total socializing, a new set of predictably asinine rules for this brand of "interacting" have popped up and are wreaking havoc on that pesky part of our brains that refuses to bow to the machines. It may seem ridiculous that there would be a standard for politesse on a website that has handily reduced the abstract concept of liking something to the click of a button, but that's where we've landed as a society. Time to deal with it in the civilized, respectful way that we humans always do.
Following Your Exes: Not cool in the mall, only slightly cooler virtually depending on how you broke up. Either way, this probably isn't a great idea, but maybe you two are that annoying "it was mutual" types who like to pretend they're too mature to get heartbroken. If that's the case, you liars, feel free to subconsciously hinder your ability to move on. For all of us sensible people: continue not doing this.
Messages from Old Friends: Everyone's been down this road…someone you haven't seen in 5-10 years pops up out of nowhere and wants to know everything about your life that's changed since the last time you saw them, which is most likely literally everything. You have two options here: rejoice in having a new e-pen pal to share your life with, or answer all their questions without too much detail and throw them a half-hearted "how are you?" at the end and assume that gravity will do the rest. Answer me honestly: which one of those sounds more like the actions of someone who has friends to talk to in real life? Exactly.
Grandma Friends You: Apparently there's some sort of control you can mess with that won't let Grandma see how much drinking/coke/strange tail you've been indulging in, so there's really no excuse for not friending Grandma. Grandma would friend you – she most likely has, which is what put you in this situation in the first place. Do you know how old Grandma is? This means a lot to her.
Illicit Pictures: Common sense would say you should remove them, for fear that future employers will see them and realize you don't exactly fit in with their company's sky-high moral standard. But this tactic does two very damaging things to your social networking presence. First, it calls into question how real you keep it. Everyone who has friends online or in real life knows how important keeping it real is. Second, it restricts your friends from seeing how hard you play to offset how hard you presumably work, a fact that you have no doubt expressed to them several times. But the proof is in the pudding, and photographic evidence of the pudding helps your case.
Poking: Do it exactly as often as you do it in real life.
In a recent agreement with the Council of Better Business Bureau, Facebook clarified its targeted ad policies and gave users new options to block them. The exact changes, outlined by the New York Times Technology Blog ("Facebook To Tell Users They Are Being Tracked"), reveal that the options to block these ads have existed for a while, but were never announced or made clear on the website itself.
Most disdain targeted ads because of the eerie "Big Brother" feeling that arises when the internet seems to know you better than you know yourself – the implication being there is a database somewhere that is storing data on your purchases to try to nudge you into some impulse shopping while you browse the profiles of friends, lovers, and relative strangers that you think are physically attractive. The reality? Well, according to Facebook, that is pretty much exactly the reality.
And while they do provide details on how to get out of this Orwellian business model, the process is typically complex: you can opt out of being tracked for ads, but you have to do so with each of the dozens of ad-serving companies Facebook works with. You can also block ads by brand, but that's an even more exhaustive process. Nonetheless, if you haven't already, prepare to see a stream of ubiquitous "NOTICE: ALL FACEBOOK USERS" status updates copy and pasted amongst your most outraged acquaintances – you know, the ones who sap the outrageousness from being outraged.
In all likelihood, most people will do very little with the new information, and continue to see the ads without really thinking about it. While there is a sense of righteous satisfaction in declaring yourself free from corporate profiling, targeted ads don't pose much of a threat to the safety of your internet browsing experience, and the information will still be recorded somewhere, whether or not a specific ad-serving company is turning a profit on it. Truly private website browsing is still very much the light at the end of the tunnel, due to the relative youth of the medium and the intangible nature of surfing through websites. While Facebook has hardly put many people's fears at ease, increasing transparency is a good start.
When it comes to technology, it seems like kids often have the upper-hand. Having grown up with computers, they use them with a natural ease that bewilders many adults. Given this comfort, it only makes sense that companies would make tablet computers for kids. As a parent, though, you need to make sure you choose a good option so you don't waste your money on a piece of junk.
Kurio 7
The good thing about the Kurio 7 is that it's tough. You could potentially drop it on the ground a dozen times a day without breaking it. Unfortunately, it's disappointing in almost every other way. It has poor screen resolution, a battery life that's mediocre at best, and a processor so slow that your kids won't even have a chance to use Google Maps. Perhaps they made it so tough because they knew kids would throw it out of frustration.
VTech Inno Tab 2
The VTech Inno Tab 2 gets good reviews from most websites. It has a few cool features that your kids will love, such as the rotating camera and the built-in microphone. It has plenty of storage space for apps. It also has a durable exterior that will handle the occasional fumble with ease.
nabi 2
nabi 2 is one of the best tablet computers built intentionally for kids. The Android interface makes it easy for kids of all ages to play educational games and explore websites. It blocks access to the Google apps store. That's a good thing unless you want strange charges showing up on your credit card bill.
Leapfrog LeapPad 2 Explorer
Leapfrog usually has great educational products. The LeapPad 2 Explorer doesn't disappoint. It has the sturdiness that you would expect from a kid's device, but it also has over 300 apps. It certainly won't keep up with your iPad, but why would you spend that kind of money on a tablet computer for your kid. The LeapFrog tablet is perfect for any child under 7.
In the last twenty years we have seen advancements in personal computers and cells phones that looks like something from Star Trek. Well it's about to head into warp speed in the next few years. There is technology that is being developed that will make what we are using now merely child's play called Glass. Now I know what your thinking, glass has been around forever. Yes, it has been, but not like this. This is light weight visual enhancing and almost impossible to break. This glass will communicate between every device it is placed on.
What we know now as the tablet and the cell phone will change and become more interactive.there will be display glass on almost everything we touch. The refrigerator, the stove, the kitchen counter, and your closet door just to name a few. Almost every surface that is flat will probably end up as a display. Giving us directions, to promoting a product, to giving us information. The only reason it isn't available now is the technology is to expensive at this point. But George and Judy Jetson get ready because the future is coming if we like it or not. Take a look at this video if you don't believe me.